Sweet and Salty Bok Choy and Cucumber Salad
Looking for Asian inspired flavours that taste amazing without the added soy and sugars that normally come with it? This Sweet and Salty Bok Choy and Cucumber Salad has you covered. It's sweet, it's salty, and it's packed full of crunch. Made using Niulife coconut amino sauce and Niulife coconut cider vinegar this dish is perfect to serve alongside your favourite source of protein.
Knowing that Asian cuisine can be tricky to prepare when you're low FODMAP. Niulife Naked coconut amino sauce adds the same great flavour that you know and love while remaining soy-free, garlic free, and sugar-free.
Serves: 4
Prep time: 20 minutes
Cook time: 5 minutes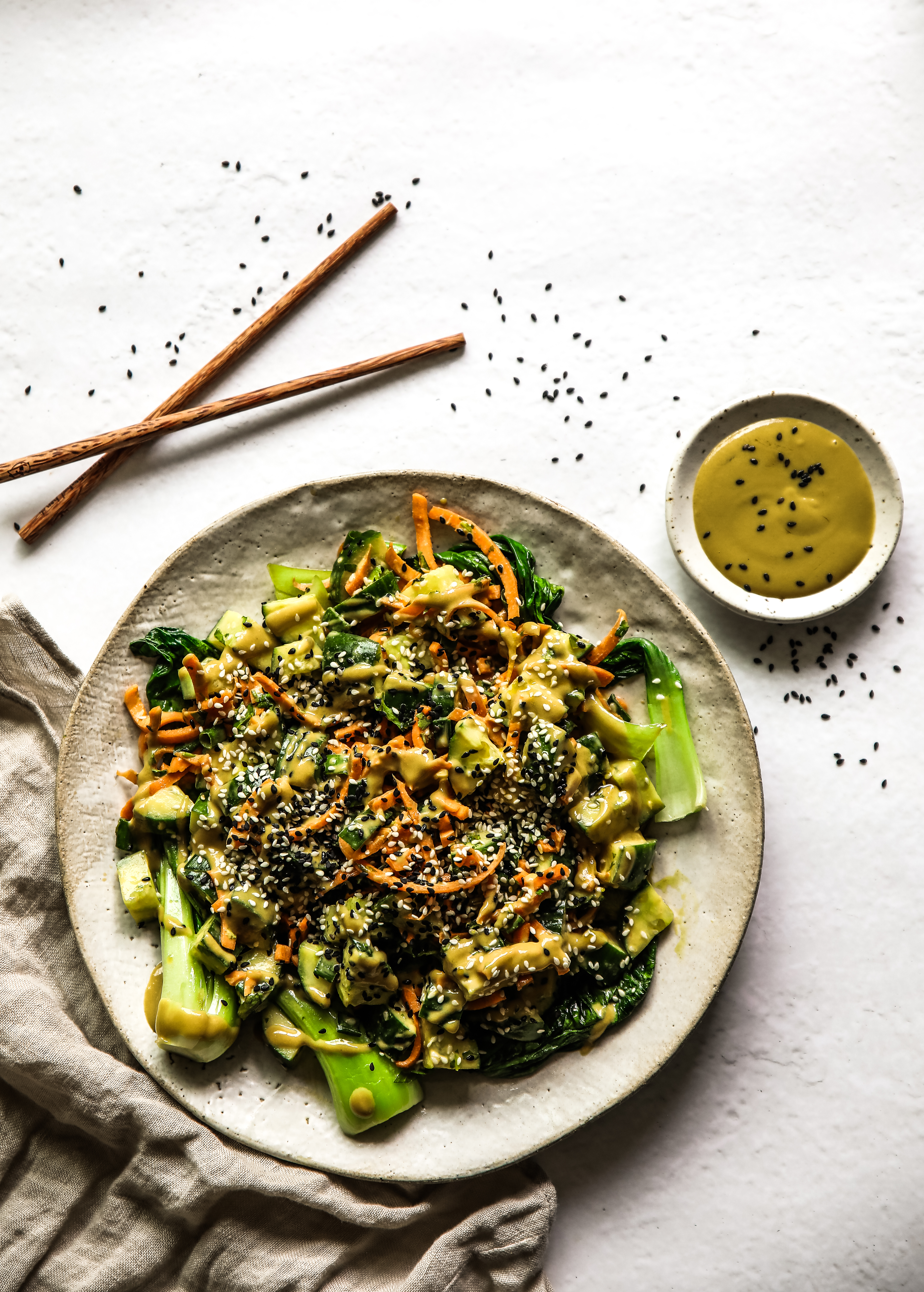 Ingredients 
Dressing
¼  cup Niulife Naked Coconut Amino Sauce
¼ cup tahini
2 tbsp toasted sesame oil
¼ cup Niulife Coconut Cider Vinegar
¼ cup hemp seed oil (you can also use avocado oil or olive oil)
Salad
1 tsp Niulife Coconut Oil
6 heads bok choy, sliced and washed
1 tbsp Niulife Naked Coconut Amino Sauce
2 cucumbers, chopped
2 carrots, spiralised
1 tbsp sesame seeds, black or white
½ cup coriander, chopped
3 spring onions, green part only, finely sliced
Method 
Prepare the dressing by combining all the ingredients in a small bowl or jar and whisking continuously until you get a smooth homogeneous mixture. It may seem like it's not coming together but it will.
Place the cucumbers, carrot, sesame seeds, coriander and spring onion in a large bowl. Pour in half the dressing and toss to coat. Set aside.
Heat a skillet over high heat and add the coconut oil. Add in the bok choy and stir fry for about 30 seconds. Pour over the coconut amino sauce and continue to stir fry for another 30-60 seconds. Serve the bok choy on a large platter.
Spoon over the tossed salad mixture and drizzle over some extra dressing. Top with extra sesame seeds to serve.
gluten-free, dairy-free, vegan, low carb, low fodmap, nut-free.